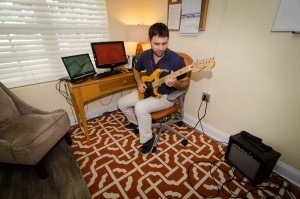 Music therapy works a lot like art therapy, it's a communication outlet for patients. Music therapy is a safe way for people in recovery to express, address and deal with their emotions, especially those emotions that are tied to their addiction. 
If you'd like to know more, just contact our trained admissions counselors at
866-349-1770
for details.
Why Music Therapy Matters

Unlike most other forms of art and communication, music has a very special quality. It can "bypass" our conscious minds and directly access our feelings and subconscious through sound alone. Music is a powerful art form, taking people on an affecting and emotional journey in just a few minutes. While the exact nuances of how and why music affect us so profoundly are still being researched even today, the effects of proper use of music are well documented, and music therapy for substance abuse has been used to great success at many facilities including Beachside.
The essence of music therapy treatment, as it is for any form of addiction treatment, is to find a safe way for people in recovery to express, address and deal with their emotions, especially those emotions that are tied into their addiction. This is part of a holistic recovery process. While it's true that there is a biological aspect to many substance addictions that causes actual physical withdrawal, cleaning out the system is only one part of a prolonged, multi-tiered campaign against the many factors that caused an addiction to occur in the first place.
Music therapy treatment takes a multi-pronged approach, and a lot of it is customizable based on the preferences and predispositions of the people involved. Music therapy is capable of addressing ALL aspects of music. This includes listening to music, creating music with instruments, using music for meditation purposes and even singing for people that enjoy or are interested in this activity.
In all of these different applications, there is still the same general goal; bringing out emotions in a safe way to deal with and discuss them. Music can create emotion all by itself, or it can instantly bring back a memory as a particular song may have been playing during an important moment in a person's life. Few creative works can convey a sense of emotion as quickly as music, and when put into a structured form of therapy, it allows both the therapists and the people in treatment to very quickly "gain access" to those emotions for the purposes of treatment.
Mending Broken Relationships
Sadly, one of the casualties of substance addiction is all too often the relationships people forge with others. Addiction can create huge divides between people that were formerly very close to each other. In other cases, addiction, can destroy the trust an addict once had in other people as the spiral of addiction forces them into contact with people willing to take advantage of their desperation. It's not uncommon for an addict, at the beginning of the recovery process to have a lot of work to do in starting—or rebuilding—relationships with other people.
However, once detoxification and withdrawal are over, simply putting a person back in their old life is not going to repair the damage that's already been done. That is going to take work, and often it will also take the acquisition of new social skills, more empathy, and stronger bonds to make these connections. Equine therapy treatment is a safe way to undergo this process with a partner that is not judgmental, biased or harboring a personal or ulterior motive; a horse.
How Musical Composition Works in Therapy
Creating the music itself is also another treatment in music therapy for addiction. This may be a solo venture or with others, depending on the comfort level. In addition to simply giving people something to occupy their time, learning how to make music can encourage more focus, creative thinking and even foster collaboration between people as they make music together.
In the same way that songwriting allows people to talk about their experiences in a musical way, composition allows people to create the emotions they are experiencing musically.
Not everyone is going to have the same responses to all forms of therapy. Each person has their preferences, likes, and dislikes. So while music therapy for addiction may be a perfect holistic solution for one person, only parts of it, or none at all may be suitable for another.
This is all part of a thorough, custom approach to holistic addiction treatment that Beachside takes with every person that comes to us for substance addiction treatment and recovery. We will always work closely with the person in recovery as well as any friends and family, in order to find the optimal therapies for the best chance at recovery.
Music is About Self Expression
Over the course of equine therapy for addiction, a person in recovery learns not just to feed, maintain and ride a horse. The person also learns about how to openly, honestly treat another living creature with the respect it deserves to win trust. And these skills, the sense of responsibility and how to honestly forge a relationship, carry over into daily life. The lessons learned through equine therapy for substance abuse can be used to mend personal relationships, and make them stronger and better than ever.
300 S. 6th St Fort Pierce, FL, 34950
Working from home can be challenging for people in recovery, especially during these stressful post-COVID times. Here are some ways to make it work for you.
read more